You either love camping or you hate it. Before we get any further, know that I write this blog with a profound understanding of the camping and glamping rituals. I come from a family of avid hunters. I learned how to field dress a deer when I was 12. In fact, that's how I earned the right to attend my hunter's training courses and get my very first shotgun.
But enough about me.
Many people are fond of the tent camping experience. It's an inspiring — even spiritual — weekend for enthusiastic campers. And I cannot deny that S'mores are utterly delicious.
But for some, the idea of trekking out into the wilderness is less than appealing. There are benefits to non-stop cell service, flushing toilets and hot running water. After years of tent camping, survivor scavenging, cabin camping, girl scouting and deer hunting, I've come to appreciate a luxury hotel experience as much as the next person.
But no hotel experience compares with the beautiful dawns, open starry night skies, or the melody of bird calls in the morning that come with camping.
And that's why luxury camping — "glamping" — is my favorite way to camp as an adult.
Why do Glamping Tents Feel so Homey?
Old-school nylon tents are thin, flappy and noisy. They don't give you a feeling of security. Camping with a traditional nylon tent feels a lot like sleeping in a giant windbreaker.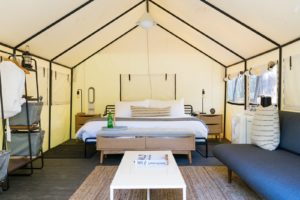 For a far better glamping experience, choose a canvas tent.
Here's why:
Canvas tents provide more comfort, climate control and space than old-school nylon tents.
The heavier, durable materials make you feel secure.
These tents are easy to set up and last far longer than nylon tents.
Even the details — like the quality, ultra-sturdy stitching — will impress you
At Sheridan Tent & Awning tents are classically styled and built to last. They've been making canvas wall tents and cowboy range tents and teepees since 1909. They caught my eye for more than one reason — they're tents are beautiful and sturdy. They're also one of the top canvas tent makers in America for major glamping destinations like AutoCamp and El Cosmico.
Why is Glamping a Great Getaway?
Glamping is More Comfortable than Camping
The big difference between camping and glamping is comfort. Add any amenities you like, but here are a few ideas to get you started:
Bring a comfortable bed. Whether it's an air mattress or a portable cot, invest in one that feels good, and bring some comforters and pillows from home.
Set up a closet and hang your clothing. You'll look — and feel — far less rumpled.
Bring good cookware and a French press for coffee.
Pack your cooler with all the goodies — beverages, grilling goods, treats and everything else that makes for fantastic dining in the great outdoors.
Throw an old-but-clean rug on the tent floor, and maybe even a welcome mat at the front door.
And finally, add some solar-powered LED light sources around your campground for an ethereal woodsy feeling.

Your Options for Locations are Endless
Another reason glamping is growing in popularity is the unending number of locations. Whether you choose to glamp in your backyard, head an hour out of town or travel all day before picking your spot, every glamping adventure is memorable.
"Glampers" can choose to set up their canvas tents in nearly any location.
Or, as we mentioned above, find an automated experience via AutoCamp, El Cosmico, and the like.
Another appealing aspect of glamping is the reduced cost of a vacation.
The Low Cost of Glamping
Unlike an extended stay at a luxury hotel or week-long cruise, glamping doesn't break the bank. It usually costs the same as staying in a cheap motel. Plus, the joys of being in the outdoors, sharing a unique experience with friends or family — glamping is the ultimate getaway.
And lastly, glampers can experience a taste of American history first-hand.
Glamping Has Deep Roots in the West
The best way to experience a culture is to immerse yourself in it. Whether you're learning to surf with the locals on the Baja coast or practicing your lassoing skills on a ranch in Big Sky, there's so much to do, see, and learn while glamping. And glamping doesn't just mean tents! From yurts to wagons, teepees, airstreams and treehouses, various ways to glamp allow for different cultural experiences that will leave you with memories to last a lifetime.
Check out Sheridan tent & Awning for more information about great places to glamp, and how to make the most of your luxury outdoor adventure today.